Suntide Commercial Realty, which is headquartered on University Avenue in St. Paul, continues to invest in the neighborhood, as the firm is a strong supporter of the area.
Following major renovations at 1000 University and the Case building, the company is now taking on a redevelopment at the former site of Johnny Baby's bar. This will be a tear-down and development of a brand-new office building called 981 University.
Suntide acquired the long-time, but problematic bar, located at the northwest corner of University Avenue and Chatsworth Street, in March 2020. The bar closed following several violent incidents including a fatal shooting on Jan. 1, 2019.
Suntide officials say it's time to tear down the building and construct new offices as a way to clean up the growing neighborhood.
"We manage the building across the street – 1000 University — and that bar was causing some grief from the bad press that it received every time an incident occurred," notes Max Currie, Suntide President and Chief Engineer.
"It went on the market, and we thought if we bought this bar, it would solve two problems: We would get to build a new development, and we wouldn't have the bar there anymore," Currie says.
The neighborhood was grateful for Suntide's proactive involvement. "I spoke with both neighborhood groups and neither had any opposition to our building. That's not always the case," Currie notes. "And it will be nice to establish more office-type uses in that area, so there are stable, long-term jobs created. It also will help support the rest of the local businesses along University including restaurants and retailers."
New Building Details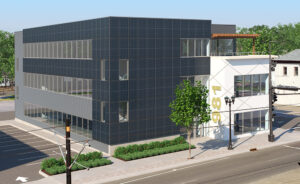 Suntide will construct an approximately 21,000-square-foot, three-story office building designed for creative office users. The new building – which could be multitenant or single tenant — will sit along the Green Line light rail, which opened in June 2014 and boosted commerce in the Midway.
"The nearby 1000 Building is full so we believe there's strong demand for nicer product in the area," notes Jeff Hart, Suntide Senior Vice President and Principal. "The redevelopment will be a positive transformation."
There has been renewed interest in the area following the construction of the Green Line and Allianz Field, home to Minnesota United FC. In fact, Midway is becoming one of the Twin Cities' most vibrant areas. The urban neighborhood has been revitalized and is flourishing as a place where people can live, work, eat, shop and play.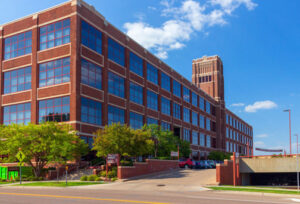 Hot Up-and-Coming Neighborhood
In addition to 1000 University and the Case Building, Suntide also leases and manages Court International, which sits across from Case and together make up the Court & Case campus. The cluster of buildings that Suntide leases and manages in the Midway are performing very well. It's been noted that it "feels like the Midway area is 'out looping' Minneapolis' North Loop," Hart says.
"We're seeing a lot of leasing activity at Court & Case and 1000 University, and we believe we'll see future activity at 981 University," Hart says. "The Midway doesn't have the traffic, pricing and crime of some areas in Minneapolis, and we have available parking."
Suntide is seeing leasing activity at its buildings from companies located in downtown Minneapolis and downtown St. Paul, the North Loop, the Northeast and Roseville.
"We see lots of groups that are either nonprofits or work with the Minneapolis or St. Paul government and feel a little more comfortable officing in the Midway where they're less beholden to either downtown," Currie explains. "And they can take the light rail to either downtown, which is a huge benefit."
981 University Will Offer Many Amenities
981 University, which will be available for occupancy in fall 2022, will feature modern, urban architecture with high ceilings, open space and natural light. It will provide a large, adjoining parking lot; underground parking spaces; and indoor/outdoor bicycle storage. A south-facing rooftop deck will give tenants a place to relax, socialize and enjoy fresh air.
"People in the state love their outdoors space and that mounted with the pandemic. We find that's a really important amenity," says Hart.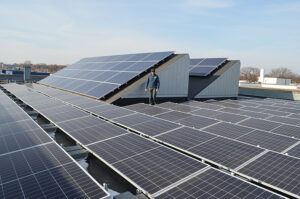 Suntide also has a strong commitment to energy-efficient construction. In fact, the company boasts energy efficiency at all its properties – both as a way to reduce costs for clients but also to be clean energy stewards. Both Court International and 1000 University are equipped with rooftop solar arrays, and 981 University will follow suit.
1000 University is practically at net zero for electrical, meaning next year it will probably generate more energy than it uses, which is relatively rare in commercial buildings, Currie explains. "It's in the 100th percentile for Energy Star," he says.
Court International is in the 98th percentile for Energy Star, and the Case Building is in the 99th percentile.
"The new 981 Building gives us the opportunity to build solar into it from the start," Currie says. "This building will really shine in that regard."
Additionally, it will be one of very few new office buildings developed in the Twin Cities today.
"We're a bit of an anomaly that way," Currie points out. "Most new development is residential."
Commitment to Renovation in Midway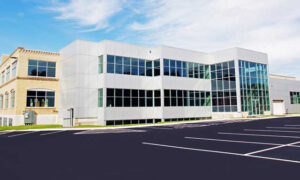 Suntide's first major renovation project was 1000 University. Suntide purchased the 40,700-square-foot historic property with plans to reposition it into a modern office complex.
The entire property went through a comprehensive overhaul. A two-story glass entryway was built and the parking lot was repaved. The interior was gutted and office suites were constructed out of the existing spaces, many utilizing the property's original timber beams and ductwork. Amenities include a rooftop deck, a common conference room and renovated common areas.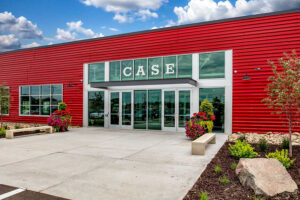 The 174,000-square-foot Case Building was Suntide's next endeavor. The brick warehouse, built by the Case Corp. in 1948 as a tractor parts distribution building, was renovated in fall 2018 into modern, creative office space. The building, however, still boasts historical features including 12- to 18-foot ceilings, exposed ductwork and open, riveted steel trusses. Suntide also added glass garage door fronts, large skylights, seating areas, outdoor patios and open, collaborative spaces.
Case was proven a success after Kimley-Horn, a planning and design consulting firm, moved from Court International into the Case Building, and The Lab, an on-site craft brewery with outdoor patio, opened at the building; other tenants soon followed.
More About Suntide
The company's business model is commercial real estate, and the development they're a part of in the Midway is an extension of its property management and construction services. The full-service firm offers third party property management, commercial construction and leasing to investors in the greater Twin Cities area.
"We had experience in all of these areas – property management, construction and brokerage — from our own investments and now offer these services to our clients as well," Currie says.
"For example, we started the construction division simply to work on our own properties but now we do about a third or even half of our construction work for third parties," he adds.
Suntide has expanded its portfolio over the years and now manages more than 3 million square feet of commercial property, the majority of which are third-party owners and investors.
For more information about leasing opportunities at 981 University, please contact Jeff Hart at 612-747-7794 or Kevin Peck at 612-834-2250.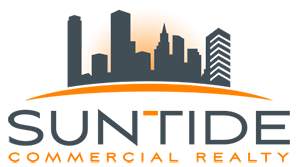 2550 University Ave. W. #416S
Saint Paul, MN 55114
Property Management  |  Brokerage  |  Construction  |  Interior Design