Suntide was awarded the Bronze Sustainable Stewardship Award by the City of Roseville for renovation of the property at 1911 Rice Street. The award is given to residents and businesses for incorporating sustainability and energy efficiency best practices.
Roseville's Community Development and Public Works/Engineering departments worked together to update and expand the program in recent years. The program includes both ongoing recognition of sustainability and energy efficiency efforts at small and large scales, and annual recognition of exceptional projects with financial awards.
In 2022, 1911 Rice Street was fitted with rooftop solar. The solar array works in conjunction with an installed geothermal system that reduces costs and significantly decreases the property's reliance on natural gas.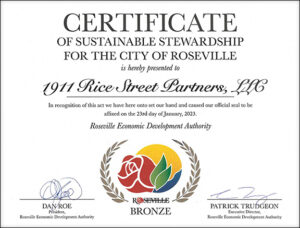 Suntide is especially honored for this recognition because energy efficiency is an important part of our property management – both as a cost saving initiative but also as part of our commitment to being clean energy stewards.
The certificate was presented by Dan Roe (left), Mayor of Roseville and President of the Economic Development Authority, and accepted by Max Currie (right), Suntide's President and Chief Engineer. Also in attendance was Kristyn Secaur, Suntide's Director of Construction and Jeff Hart, Senior Vice President and Principal.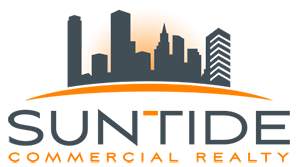 2550 University Ave. W. #416S
Saint Paul, MN 55114
Property Management  |  Brokerage  |  Construction  |  Interior Design
.